Barbadian entrepreneur Nick Bynoe cannot tolerate hot, spicy foods but that did not deter him from making his own pepper sauce to rival the traditional, mustard-based version.
Nick had not long returned to the island from living overseas when he noticed a gap in the market for different types of pepper sauce and started researching the growing global demand for boutique, small batch hot sauce.
In 2018, Nick registered his business 'Old Duppy' and started selling bottles of his pepper sauce at local farmers' markets. Now, Nick's hot sauce is in shops around the island, and he has also recently started exporting to the UK.
Yello chatted with Nick about his business and his plans for "global domination".
Describe yourself using three words.
Ambitious, creative, and philanthropic.
Tell us a little bit about your background.
I grew up in Barbados. My family has been on the island a long time although I have grandparents born in St Vincent and Grenada, so I have a few Caribbean connections.
When I was 13, we moved to Singapore, and I lived there for three years before moving to Hong Kong. I studied in Canada and lived in Toronto for 12 years, but the winters got a bit too much, so I moved back home in 2015.
What was your initial career path?
I studied operations, warehousing, and logistics so that was my professional career. In Canada, I did everything from unloading containers up to being an assistant buyer. When I came back to Barbados that was the field I was in as well, so I did a few jobs before ending up in the furniture industry.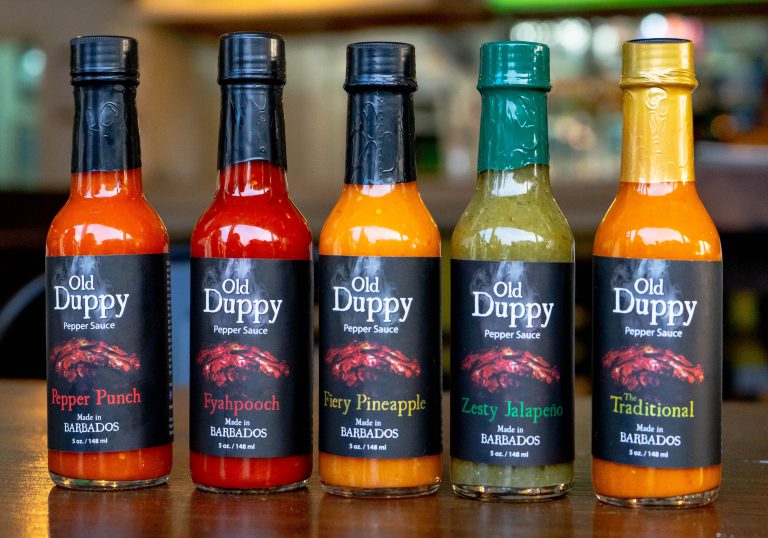 When did you get the idea to start making your own pepper sauce?
Food was always a passion, so I've always been into food and cooking, but I just decided to experiment one day when I realised that there was a gap in the market for a Barbados brand of pepper sauce.
All the sauces here were kind of similar but on the international market, mainly the US, there were lots of variations and flavours of pepper sauce. I started watching YouTube videos of people making hot sauce and reading articles on the global trend in the rise of pepper sauce especially niche, small batch sauces, and realised there wasn't genuine Caribbean representation.
I thought about what Barbados has to offer in terms of flavour and how we could try something different, and it soon became obvious from the reaction that there was a local taste for something beyond traditional pepper sauce.
But it was never a plan to make it into a company, I just made the sauce, everyone loved it, and it went from there.
What was the first batch of pepper sauce you made?
The first batch was our 'Fiery Pineapple' sauce which I made from charred pineapple and smoked peppers.
It tasted really good and was kind of an immediate hit which didn't need much tweaking because we don't use fillers or preservatives. Once you have fresh, natural ingredients, they really speak for themselves.
When I knew that we were onto something, I just changed the recipe a bit for mass production to include peppers that were more readily available.
When did you officially launch your brand 'Old Duppy' and how did you come up with the name?
I went to officially register the company in 2018 but the name I wanted was taken, so I had to come up with a new one.
Then I had a bonfire on the beach with some friends, and after a few bottles of rum, one of them suggested calling it 'Duppy' (an English-Caribbean word for ghost or spirit) which I thought worked really well because we smoke the peppers, and it is a very Barbadian / Jamaican word.
It just really fitted with the theme of our brand and later we also featured the bonfire from that night on the label, so it's all linked.
How has the business evolved over the past five years?
Soon after making the 'Fiery Pineapple' we created two other flavours 'Pepper Punch' and 'Zesty Jalapeño'. So, we had green, gold, and red pepper sauce which pretty much covered the market. Then I started thinking we needed something hotter so 'Fyahpooch' came on board.
Shortly after that we made a traditional, mustard-based Bajan pepper sauce even though that was never our market, and that has now surprisingly become one of our better sellers.
Then we introduced the Vex Vinegar which is a smoked vinegar infused with chilli and garlic. We made a BBQ sauce which is rum and tamarind-based with smoked peppers and then a straight tamarind sauce and we also released a chilli oil.
During the COVID lockdown, I had a little piece of land to plant on, so I quickly got into farming. I planted eggplant, even though I don't like it, but at some stage I was picking kilos of eggplant and then I got inspired to create a 'Bajan ghanoush' with eggplant, tamarind, brown sugar, ginger, and spices. We put the dip in stores, and we couldn't keep it in stores because it was so popular.
What are your plans over the next 12-18 months?
We have plans outside of the pepper sauce and a few exciting projects lined up in relation to that although I can't say much about them right now.
We are also partnering to open a food truck at a convenient location. It will have a set menu, along with specials and recipes, and really showcase how our sauces can be used in cooking. We'll also have events under that brand as well.
Last year, we incorporated as 'Old Duppy Foods' and brought on a business partner to help with our expansion into the UK and other markets.
What I really want is to be rooted and associated with Barbados and for visitors to know our brand before they come so they want to take back our pepper sauce not just any pepper sauce.
The long-term goal is global domination. Why not set the bar high!
What do you love the most about Barbados?
One, the people and two, it's home. I lived away for so long so moving home brought a sense of relaxation. The island also still has a sense of community.
Where do you go for a meal to celebrate a special occasion?
My backyard with my smokers and barbeques. Once the food truck is open, I'll go there.
What is your motto / philosophy in life?
Just be honest. Be honest and up front with people because, if you're not, it'll catch up with you.
—
You can find 'Old Duppy' food items in several stores on the island including Massy, Clifton Market, Popular, and Ryan's Happy Place Grocery Store.
Visit the official 'Old Duppy' website for more information on the brand.