Some people ask for a room with a view when they check into a hotel or resort. Guests at the Lavender Moon Villas, especially those on the second floor, have the most spectacular view of Ocho Rios, Jamaica and surrounding areas.
The Lavender Moon Villas sits proudly at the top of Breadnut Hill, approximately five miles from the tourist town of Ocho Rios. Its convenient location makes it ideal for those who wish to relax away from the town noise. Conversely, the hotel is close enough for guests to check out tourist attractions like Dolphin's Cove, Dunn's River Falls, local beaches, restaurants, and shopping areas.
Yello caught up with General Manager Jean-Claude Walsh, who highlighted the amenities and what guests can expect before, during and upon checking out.
Please tell us about Lavender Moon Villas.
We had our grand opening on 27 September 2022, and the response since then has been quite positive. Our guests can select from any of our 13 rooms, including single, double, large double, family, and king suites (Alexander, Renee, and Victoria). Each room has a patio (veranda on the lower floor), 50- or 55-inch TV, upgraded bathroom fixtures, comfortable beds (double, queen and king), and other amenities.
There is a bar on the lower floor near the reception area and our Sky Deck and restaurant for those who wish to enjoy the view of the Ocho Rios Bay or the mountains. We also have a pool, jacuzzi, and a small gift store where guests can purchase fragrances, lotions, and body mists.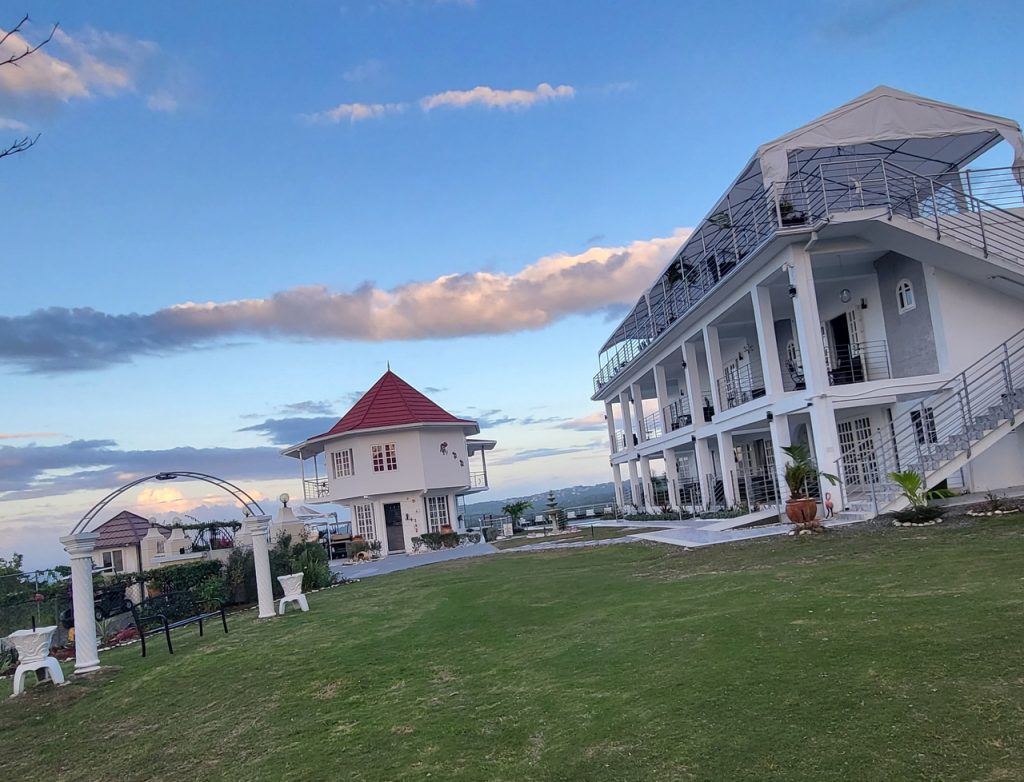 The name of the hotel is unique. What inspired it?
The hotel owners, Val and Nathalie Shirley, named it after her sister, Natasha Levers. Natasha's nickname is "Moonie". Her favourite colour is lavender, hence Lavender Moon. While doing the process to register, we initially categorised the business as a villa based on the number of rooms we had. However, the Tourism Product Development Company passed it as a hotel since we had over 10 rooms.
Give us an idea of the type of services that you offer.
We encourage our guests and persons interested in staying with us to make reservations. We can arrange for interested persons to tour the property before booking. With reservations to stay with us, guests receive a complimentary continental breakfast. I often refer to it as a large breakfast because of the variety of options.
Our team can arrange for events (wedding receptions, birthdays, anniversaries, etc.) that guests wish to have at the Skydeck, pool, or garden. We can provide catering and decorations if needed. Also, dinner reservations can be made using our website, or via WhatsApp (876-506-8440), or a call (876-516-1421).
We understand that some guests might prefer to spend the day, so day passes are available. They can relax by the pool, jacuzzi, in the garden, or at the Sky Deck. We have a pond on the property where the guests can fish. We can provide them with a fishing rod, or they can use their own. A member of our staff can also assist with catching the fish. If the guest or staff member catches a fish, our chef can prepare it for lunch or dinner for the guest.
What can guests expect before, during, and upon checking out of the hotel?
Upon arrival, our security team directs the guests to the parking lot, where a golf cart transports them to the reception area. During their stay, our guests can enjoy a complimentary breakfast (each day). However, people who book a suite can make their meals in the kitchen inside their suite. They can also purchase breakfast, lunch, or dinner from our menus. We have received many compliments on our menu, which we credit to our chef, who makes each meal from scratch to create unique flavours.
To relax, guests can check out the spectacular view of the ships in the bay from the Sky Deck, upstairs patios (rooms facing the bay), or hang out in the garden or by the pool. Throughout their stay, our team is available to answer questions and assist our guests. We also transport our departing guests and their luggage from the reception area to the parking lot.
Please share a challenge that you experienced and how you handled it.
I experienced a challenging situation with a guest who was very specific about what she wanted. She asked a lot of probing questions, which I handled. As the general manager, the comfort of our guests is my priority. So, I listened to her questions and concerns and treated her respectfully. When she was ready to check out, she admitted that her questions and actions were deliberate, as she was interested in referring some of her clients to us but wanted to see how we act under pressure.
I was proud of how we handled that situation, and we succeeded because, at our core, we want our guests to be happy. The most typical feedback we receive from our guests is awe over the view and positive comments on the food, staff, beds, and service. Many say they will return or recommend it to their friends, and we have seen where this is true. We recently had a wedding where the couple was referred to us by a past guest.
Do you cater to locals as well?
We do. For Rebel Salute, we had the privilege of hosting local entertainers, celebrities, and tourists. Some were working at the event, and others were attending. We offer events with local and international guests in mind. Last November (2022), we had a Thanksgiving event, and in December, we had a Christmas event and a New Year's Eve Ball.
This February (2023), we have a Valentine's Day event on 12 February, where couples can join us for dinner and dancing at the Sky Deck. That event costs US$130 (per couple), and guests can enjoy live music, stunning views, and a delightful four-course meal. We are encouraging interested persons to make their reservations early. The event will be from 6:30 pm-9:30 pm.
Your team is crucial to your overall success. What do you admire most about your staff?
I admire the level of service they offer. I'm involved in the hiring process, so I try to select talented people who are dedicated and know what they want. I love their commitment to excellent service. They are passionate about their job and enjoy what they do. Their productivity and support contribute to what makes our hotel unique and ideal. Although we are smaller than most hotels, our staff understands and values the privacy and comfort of our guests. So, they treat each other and our clients with respect, courtesy, and kindness.
Please share advice that helped you that you believe might be of value to other people who are considering entering your industry.
You're going to encounter difficult personalities who will test you. Always aim to be professional and treat your team and guests with respect. Making the right impression also requires consistency. Some guests watch how you treat your workers and will pick up on problems if they realise your staff is unhappy. You must also ensure that when there is a problem, you have multiple solutions to let the guest know you are interested in making things right. Lastly, never give up and keep doing what's best for your business.
What is the most important thing you want people to know about the Lavender Moon Villas?
Our service is impeccable. We are here for all guests and to ensure your privacy and comfort. Our goal is to serve, please, and care for our guests. Finally, we would love people to come and enjoy the views, food, setting, and a taste of paradise.
Special thanks to Mr Walsh for giving us a glimpse of Lavender Moon Villas. To stay abreast of upcoming events, visit the Lavender Moon Villas website and social media platforms – Instagram and Facebook (@lavendermoonvillas). You can also email [email protected] or [email protected] for tour requests and reservations.