Barbados pet treats and cakes company 'The Gourmet Paw' is owned and operated by Canadian-born businesswoman Julie Edghill-Seale.
Julie started making tasty treats for her nine dogs in 2018 to save money, before eventually deciding to sell them on the weekend at farmers' markets.
Two years later, during the first COVID-19 lockdown, Julie was asked by two of the biggest retailers on the island to put her homemade product on their shelves. She jumped at the chance and 'The Gourmet Paw' is now a recognisable brand in several stores around the island.
Yello asked Julie to share her fascinating business story.
Describe yourself using a few words.
Compassionate. Perseverant. A die-hard animal lover. I'm also a doer.
Please tell us a bit about your background.
I am Canadian. My mum and I moved to Barbados in the early 1970s. She was transferred here by her job when I was eight years old.
We started off living on the south coast and ended up in St George and St Joseph. I absolutely adore St George and the views over the valley. That would be my ideal location to live and set up the business.
When I first came to Barbados, I did not know English. I only had a few lessons before I left Canada, so I have a bit of a funny accent, but I can speak Bajan with the best of them!
Over the years I left to go back to Canada to study. I also worked overseas for quite a few years. But I always gravitate back to Barbados because it's home.
What was your initial career path?
I studied visual arts but never really went into it although it comes in handy now because I do all the marketing, artwork, and logo designs for the business.
However, it's not something that comes to me easily which is why I think I never followed it. I am also a bit of a perfectionist so it takes me a bit longer than it should.
How / when did you start your business 'The Gourmet Paw'?
I had six dogs and then I inherited three more when my mum passed away over 10 years ago. Of course, having nine dogs, buying treats was not logical so I started making my own. I remember being woken up at 5.30am by the dogs wanting their treats and my husband suggested selling them, so I did.
I was working full time in those days so initially I sold them on the side at local farmers markets especially Holders Hill and the one at Animal Flower Cave. So, generally it started from making the treats at home and wanting to make something healthier and more affordable for my dogs.
About two years after selling part-time at the markets, I was so blessed because I started to receive phone calls from Massy and Carter's asking me whether I would be interested in selling my product in their stores. Of course, I jumped at the chance. It was 2020 during COVID, and the first lockdown, my full-time job had ended, but it was a mad scramble because they wanted the treats in two weeks.
I worked 18 hours a day for months just sourcing the raw ingredients, baking, and producing, and trying to get the product out there. It was a huge challenge, not easy at all, but I am very proud of the brand that has evolved from it.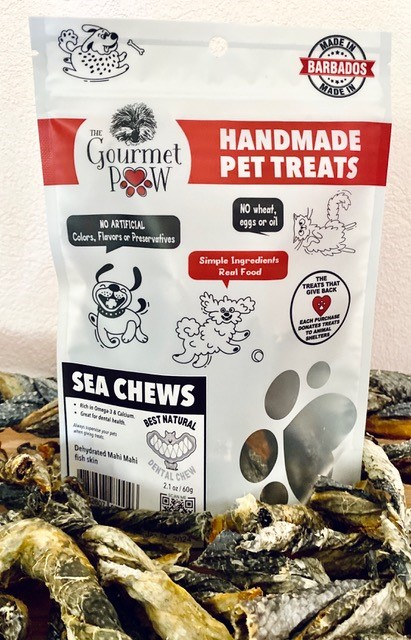 What products are you currently selling and where can people find them?
We have six to seven standard products. Chicken and pumpkin, salmon and sweet potato, dried chicken livers, chicken steppers, and sea chews made from dolphin and maui maui skins.
We have 'calming' livers and fish sticks which are treats made with camomile and passionflower especially for anxious dogs or dogs disturbed by thunder or fireworks. Our calming paws product is made with lavender.
We also have three kitty treats. All liver, all fish, and a combination of the liver and fish.
Our products are sold at Massy Stores, Carter's, Ace H&B, Emerald City and A1 Supermarkets, iMarts, Total Loving Care Vet, and Central Vet Clinic South and Lower Estate.
We also do private orders and particular dietary requests which can be placed through our website.
How do you come up with the recipes for the treats?
The original was a blend of chicken and pumpkin which is still the favourite with my dogs as well as the steppers and chicken livers. In the beginning I used flour but now we use oats, so I currently don't use eggs, flour, or oil.
I also only use poultry or seafood, no other meat products, which is a personal choice because I don't eat it myself.
I do a lot of research in terms of ingredients and dehydration times so the product has shelf stability of at least six months. I also do market research via Instagram asking people what their pups prefer and based on that I come up with a recipe.
But every day is a new learning experience and over the years I have developed better methods and recipes and I have a few websites I trust for information. There's certainly a lot of trial and error and my dogs love that phase because they get to sample all the recipes!
What is the unique selling point for your product?
We use simple, fresh, and real human ingredients. There are no by-products, no bonemeal, no preservatives, or artificial flavours. We focus on health and taste.
What have been the biggest challenges at the start of the business and now?
The biggest challenge at the start was going full time during COVID and, as I mentioned, being able to access the raw materials. Labels, packaging, and bags were also difficult to find. But I was so blessed because the retailers came to me and I thank God that they trusted the brand, gave us a chance, and put it on the shelves.
Right now, my biggest challenge is the affordability, quality, and availability of raw materials, especially packaging. I've had to order my branded packaging from overseas to keep the cost down.
The dehydrating is also a huge cost because it takes a tremendous amount of electricity. Everything must be dehydrated because I don't use preservatives. I would love to have other sources to run the dehydrators on, like solar power, but as I was told, I would need a field of solar panels just to run one of them.
How do you plan to grow 'The Gourmet Paw' over the next 12-18 months?
We've recently made some significant investments in packaging and equipment to increase production so we're planning to expand further into the local retail market.
We've also been in discussion with overseas interests about exporting within the region but before we could even think about that we had to bring in newer and better equipment.
Ideally our goal is to open a store front. A 'barkery' so we can serve fresh baked treats for dogs and where we can also highlight locally produced pet products because there are so many people here making different items.
Another aspect of the business is dog's birthday and special occasion cakes which are also all natural. The ice cream pup cream is made from my own homemade Greek yoghurt with peanut butter and banana or seasonal fruit and coconut and I'm looking at expanding that range as well.
I would need a bakery to be able to showcase all those products, but I really love that side of the business and being able to come up with different recipes.
What advice do you have for other small business owners?
Do your research. Persevere. Be prepared for long days and nights and the days when you're ready to give up – but don't! Also, ask questions. I tried to do it all on my own until I realised there are places and people out there where you can go to get assistance.
The Barbados Trust Fund was a tremendous source for me. Their 'Manufest' programme was an eye-opener, and they will help you a lot with every aspect of your business.
What do you love about Barbados?
The friendliness. You walk down the road and people smile at you and say good morning. The warmth of Bajans. The people are awesome.
What do you do to relax on your days off?
I don't get many but I would say spend quality time with friends and family.
What is your philosophy/motto in life?
Treat others, especially animals, as you would want to be treated. Have compassion. Be kind because you never know what someone is going through; so just be kind but especially to animals.
—
You can order Julie's homemade pet treats and cakes from The Gourmet Paw's website and follow them on Instagram and Facebook.